BIOMIRU: Clean Energy from Your Own Kitchen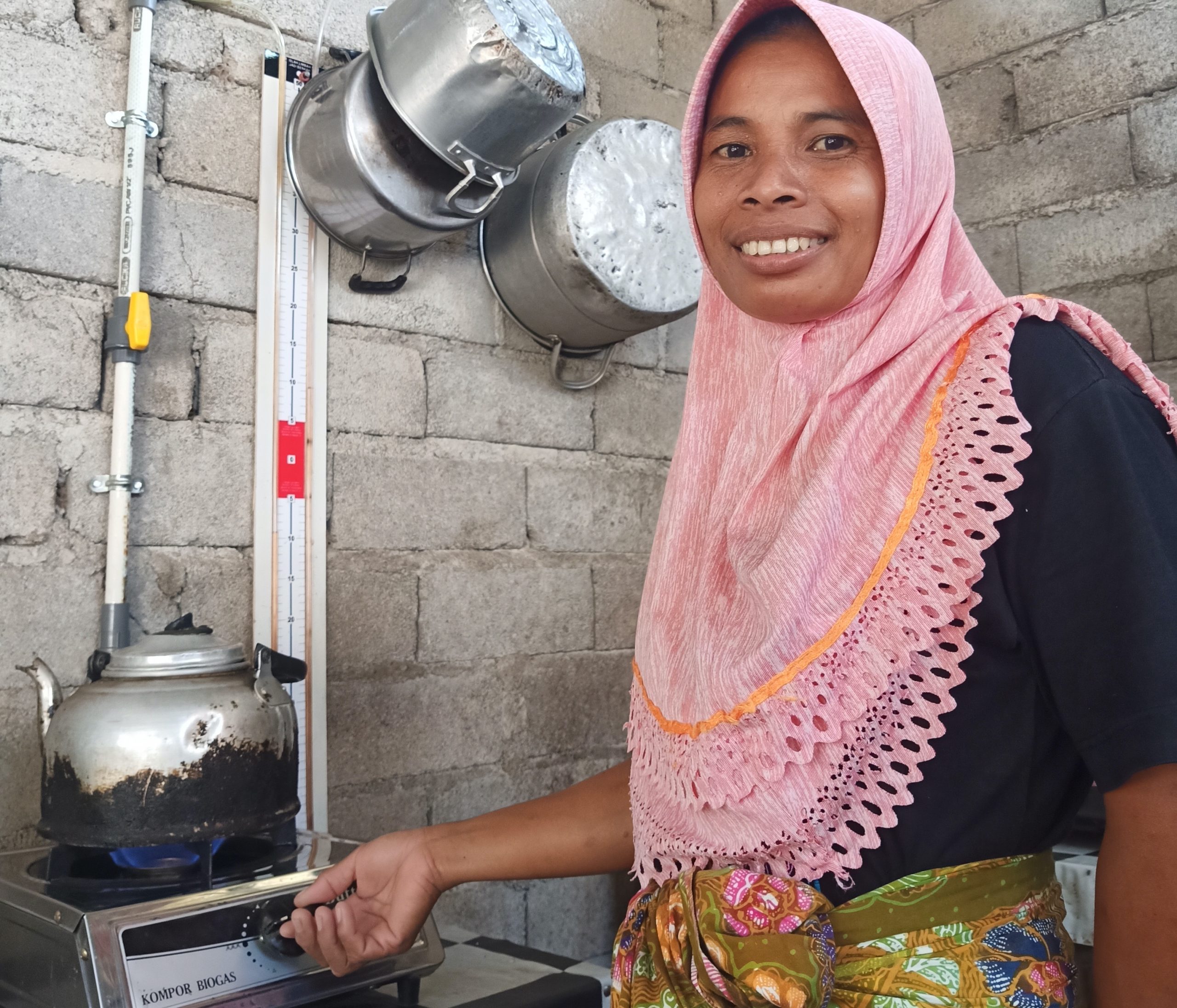 Waste management becomes a blessing is the motto of the BIRU program which projects the processing of organic waste from the livestock to be processed into energy, therefore, household cooking needs every day can be sufficed.
Household Mini Biogas (BIOMIRU), a digester tank made from Poly Ethylene (PE) – water tank as a producer of biogas from animal manure and other organic materials.
What is BIOMIRU?
Household Mini Biogas (BIOMIRU) is the latest product innovation from Rumah Energi for urban people as a solution for processing household waste into energy. BIOMIRU utilizes methane gas released by organic waste during the decomposition process as biogas for cooking.
With the principle from the kitchen back to the kitchen, Rumah Energi introduced BIOMIRU as a recycling system for household organic waste into biogas that can replace the role of LPG gas which is getting more expensive every day. In addition, the results of BIOMIRU pulp in the form of natural fertilizer (bio-slurry) are used for urban farming.
BIOMIRU Superpower
Treatment of organic waste from the kitchen itself. With BIOMIRU, organic waste from your kitchen is treated and does not contribute to emissions of gas in the atmosphere.
Economical and long term investment. With BIOMIRU, pay once and for all. And additional income from saving or utilizing biogas and bio-slurry.
Savings on LPG gas expenditure. By using BIOMIRU LPG gas savings of up to 12 kg per month.
Utilization of organic fertilizer (bio-slurry) make fertile land, healthy plants and abundant crops. Take advantage of bio-slurry for farming at home.
The kitchen is cleaner and healthier. The kitchen is cleaner and healthier and free of smoke that disturbs health.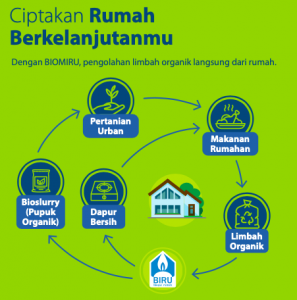 BIOMIRU Specification
Land area for Biomiru development: 2m2 – 6m2
Material: water reservoir made from polyethylene (PE) and PVC pipe
Digester capacity: 650lt, 1,000lt, 2.000lt
Capacity (litre)
Gas Output (liter)
Cooking Duration (minute)
650
200
±

30

1.000
400
±

60

2.000
600
±

90
BIOMIRU Financing
Rumah Energi has cooperated with micro-finance institutions and cooperatives in providing financing to farmers and ranchers who want to build BIOMIRU.
To date, Rumah Energi has cooperated with 55 cooperatives and 3 micro-finance institutions (Rabobank Foundation, KIVA, and Bank Syariah Mandiri).
Contact Us
If you want to install BIOMIRU, please contact a certified Construction Partner Organization (CPO) Biomiru Builder, according to each region:
Jabodetabek : (CP: Wahyudi 085959868789)
Jawa Tengah : Mitra Sarana Energi (CP: Suyono 087839841973)
D.I. Yogyakarta : Rumah Ilham (CP: Paulo 081290744118)
Lampung : Regol Mason Group (CP: Irpan 085383030501)
NTB : Sangkareang mason Group (CP: Sophan Sofyan 081805777811)
24 January 2020