Mrs Titin Preserves Indonesian Culture through Traditional Dishes with Zero Waste Concept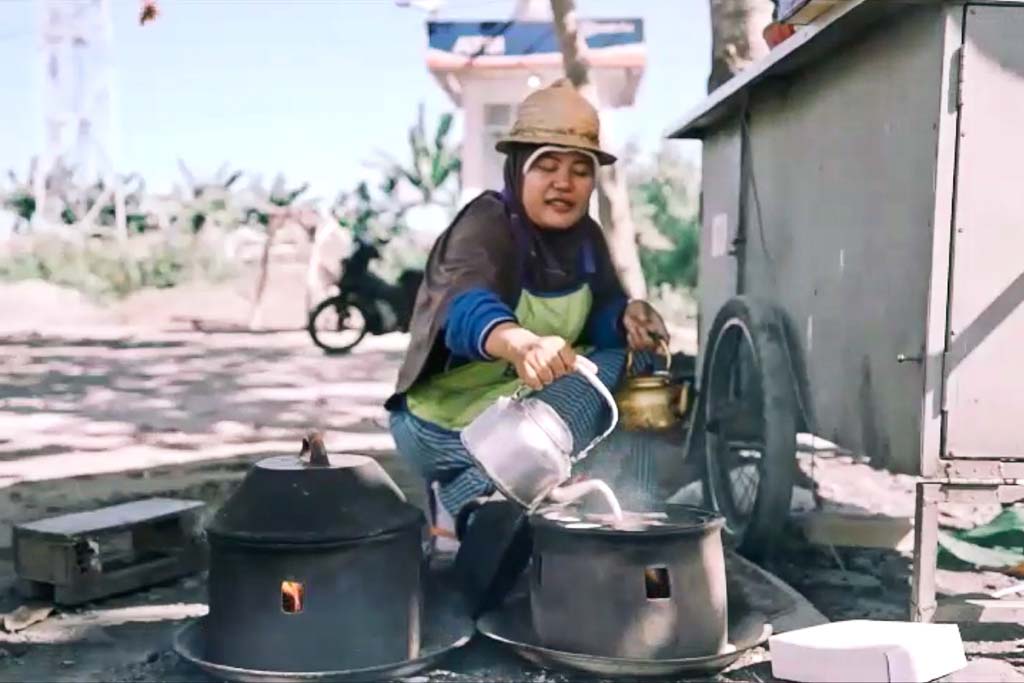 Traditional foods: it is a food that is popular not because of the character of its taste, but also its history, that mostly known to be a cultural heritage which needs to be preserved. Indonesia, with a variety of cultures, usually have their own traditional dishes that usually related to some cultural ceremonies. Over the years – since the modern era has come in, many traditional foods in Indonesia have slowly dead – defeated by fast foods. This fact triggers Mrs Titin Indra Mayasari, a woman and a teacher who decided to build a business of Laklak Serabi – an original dessert that comes from West Nusa Tenggara. With the given name of  Lumbung Serabi Ghaziya, Mrs Titin desires to keep the existence of Lombok's foods that hopes its entity still bounded to the culture that all generations could relish.
Mrs Titin had established the Lumbung Serabi Ghaziya for about ten years and began after she got inspired by one of the sellers that she met on holiday at Yogyakarta. At that time, she saw the Serabi seller who looks aged and made her wondered about why there are many businesses, especially youngsters who tend to sell fast foods rather than the traditional ones? "When I was in college, I was lack of money, and then I was thinking about to sell Laklak Serabi in Lombok instead, like the elderly woman that I saw in Yogyakarta. Besides, nowadays, I can see is that many Indonesian dishes such as Laklak Serabi that becoming scarce, and it's such a regrettable. It's very upsetting to witness our cultural heritages are undervalued," she explained.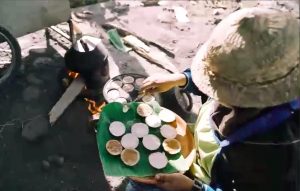 Laklak serabi has a taste like a pancake but made from rice flour, salt and water, then served with thick coconut milk. It is very similar like Javanese Serabi, but the difference is on the size and the colour. Laklak serabi has smaller size with greenish colour, but both of them are using coconut milk and brown sugar as the ingredients.
While running the Lumbung Serabi Ghaziya, Mrs Titin had stopped her business in 2014 after marriage. But then, in 2015, she returned to the business but coming with a new concept that used an Instagram account to facilitate all the business processes like promotion and receive orders. Although the online business provides a more convenient way than offline, there are still many challenges that would be faced. Likewise, in the Lumbung Serabi Ghaziya, Mrs Titin found many complaints from customers about the quality of its Serabi that were never warm. "At that time, I got many complaints from customers. They said my Laklak Serabi was never warm when they ate it. But, how can I keep it warm, while I do everything (business) alone with the help of none employees? Moreover, the process of making Laklak Serabi requires so much time to cook. So, every time I get an order online, of course, I can't serve it in warm," she explained.
At that time, every customer who buys online were needed to take their orders by themselves at Lumbung Serabi Ghaziya location. However, since the presence of an online ojek in 2017, Mrs Titin decided to a used delivery courier through online ojek application. While also hoping to become an iconic traditional Lombok dessert, in November 2018, Mrs Titin signed up as a participant of the Pro-Women program which then leads her to be more confident.
Since then, Ibu Titin hired many students in Lombok who need extra incomes by working in her business. "Commonly, traditional Indonesian dishes are famous by elderly merchants, so that's why I prefer looking for young people to be part of the team. Because I want to build the spirit within them to preserve our cultural heritage by foods, "she explained.
Although her business has 7 members, it still does not make her stop intervening in her business process. Every day she makes the dough to be sold from 3 pm to 6 pm. But along the time of joining Pro-Women, Mrs Titin admitted that she experienced a lot of rapid business development. She learned many tips about the necessary actions to build the business ideally. "I was taught about how to evaluate the market and segmentation, then how to create a canvas business. So now, I already have a strategic plan for the future. Then, I also learned to do branding on social media because so far I keep using my personal Instagram account to do marketing. But now I know, the business needs a different account besides personal one," she said. 
After learning to build the business strategies, during the terms of the program, Mrs Titin got an opportunity to collaborate with other participants. At present, she has been working with Mrs Maimunah, another Pro-Women participant who sells tortilla chips. They both formed with an equal vision – desires to preserve local food ingredients to processed into the best quality products. "Initially, I wanted to collaborate with a coffee business. Because Lombok people usually love to eat Serabi that accompanied by a cup of coffee. But it hasn't been applied yet. Instead, I have worked with Mrs Maimunah, who sells tortilla chips. We both had been doing the business of culinary heritage that utilizes West Nusa Tenggara local ingredients, such as upland rice and corn kernels, to be processed into the best quality foods. So, my customers really love to snacking the tortilla chips after enjoying their Laklak Serabi", she said.
Maintaining Indonesian heritage culture through culinary is not a single purpose of the establishment of Lumbung Serabi Ghaziya. Mrs Titin also hopes that through her zero-waste concept within her business can boost the awareness of Lombok people to avoid the single plastic usages in daily life. "I also apply the concept of zero waste to my business. I always ask each customer to bring their own boxes. But for those who forget to bring it, I usually provide banana leaves to serve the Laklak Serabi," she explained. Although she often found customers who complained about the wrapping material, it still does not stop her from warning about the hazards of plastic waste to everyone.
Within the Pro-Women program, Mrs Titin hopes that her business would become the biggest icon in West Nusa Tenggara through traditional culinary, which is also a place of job opportunities. She also hopes that her business can provide countless benefits, especially to the young generations who triggered in preserving Indonesia's cultural heritage through culinary businesses.
21 April 2020