Webinar: MSME Adaptation Strategy Responding to the Impact of the Corona Pandemic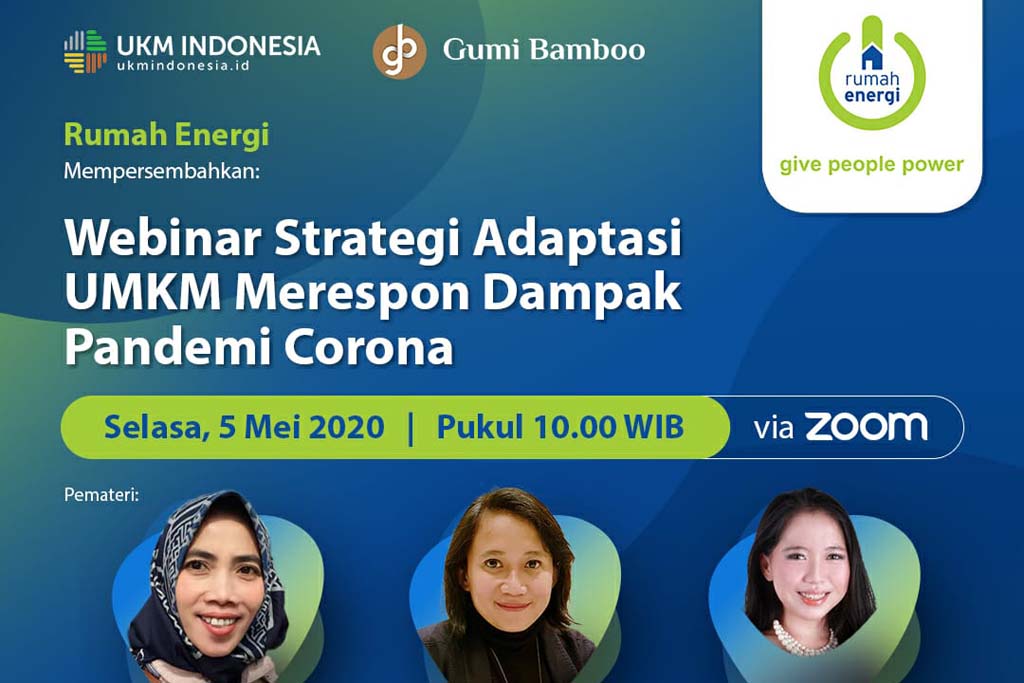 Jakarta, May 5th 2020 – The economic sector is the most impacted by the Covid-19 pandemic among others, especially small and medium businesses. The perceived impact is quite diverse, ranging from the deserted stores to the most severe is forced out of business. On the other hand, MSME is one of the sectors that support the Indonesian economy. This is certainly a blow to the country's economic stability. On the MSME Adaptation Strategy Responding to the Impact of the Corona Pandemic webinar, it discussed the strategic steps that need to be taken by MSMEs as well as those who are just starting out.
In facing the imbalance between market demand for certain products, Dewi Meisari, UKMIndonesia Co-Founder, views that for some business groups, "surviving" will be more realistic if there is indeed a difficulty to "grow". There are 7 things that can be considered to maintain business sustainability:
Lowering prices to meet the market demand but, still cover the operating costs.
Save operating hours that will be related to employee wages so that they need to be well discussed, access government programs that can help reduce costs such as loan repayments, electricity, taxes, etc.
See business opportunities in current conditions and divert the use of some capital or employees temporarily if it does provide a stream of income.
Dig up as much information.
Take the time to learn and improve your business, for example, improving logos, financial systems, salinity, SOPs, etc. because there are changes in consumer behaviour in choosing and buying products (especially related to hygiene and the effect on the environment).
Product innovation and supporting services.
Learn opportunities to collaborate with other partners so that they support each other's efforts.
Seeing this strategy, the existence of planning and financial records in starting or developing a business or business is important. This relates to the continuation of normal and abnormal conditions such as the current disruption by a pandemic that impedes some access, both to obtain raw materials, supply chains and delivery of goods to consumers. According to Nurul Munawaroh, as the Micro Finance Officer of Yayasan Rumah Energi, in addition to financial planning such as an emergency fund and continuing to study the company's financial history, creativity and communication are keys that are very helpful in times of uncertainty like now. Creativity to improve business models and good communication with consumers and suppliers are two capabilities that need to be developed by business people in order to maintain a smooth running of operational costs.
Forms of creativity in maintaining business during this pandemic can be realized through collaboration with other business people. This method has been successfully carried out by Gumi Bamboo, who sees the opportunity to collaborate with SME colleagues in the area, Lombok, to market products that are in line with their business so that they can both reach a wider market. Kris Ayu as the Co-Founder of Gumi Bamboo also reminded that in addition to the business model, grouping of financial flows and the existence of savings for businesses undertaken is important. With the grouping of funds, companies or business people can allocate funds for the most important purposes. Savings for businesses are very helpful in the event of an unexpected disaster so that the business can still last around 3-6 months.
Based on the explanation from the speakers, SMEs can learn and be able to pursue opportunities and create opportunities to be able to survive in the face of this unstable condition. Either by cooperating with new business partners or improving operational systems, etc. of course with careful consideration.
The presentation can be downloaded here.
6 May 2020