Webinar: Domestic Biogas Business Opportunities in Jobs Creation and Improving the Family Economy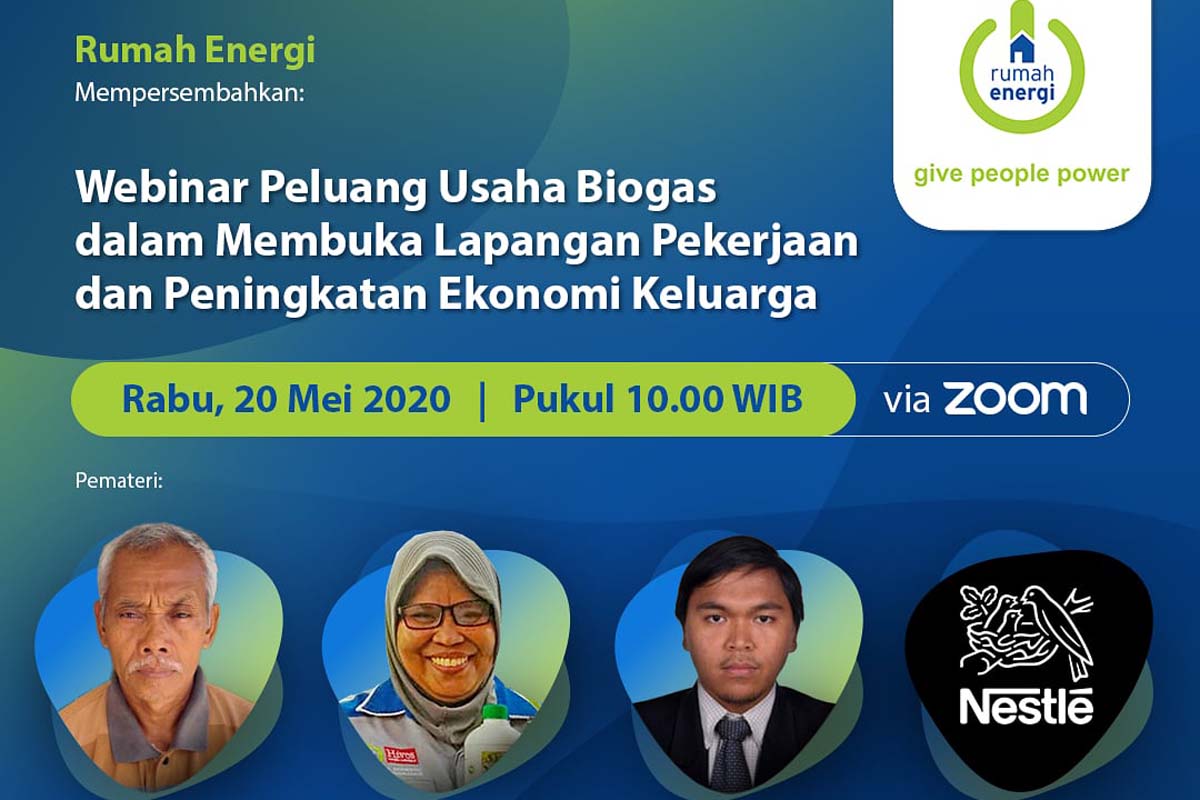 The Biogas Business Opportunities in Opening Jobs and Improving the Family Economy webinar held on Wednesday, May 20, 2020, aims to introduce the community to biogas which is one type of renewable energy that can encourage the realization of a clean and independent Indonesia in the energy sector, and its opportunities. On this occasion, Yayasan Rumah Energi (Rumah Energi) gathered parties involved in the Domestic Biogas (BIRU) programme which seeks to develop and expand the use of biogas to form a biogas market, both from the reactor development sector to the users of biogas products so as to open a new discourse about the potential and opportunities of biogas itself.
Based on data submitted by Mr Trois Dilisusendi as Head of Sub-Directorate for the Preparation of the Bioenergy Program of the Directorate General of EBTKE, Ministry of Energy and Mineral Resources, the use of fossil fuels in Indonesia reached 90%. This amount is quite high and is not in line with the number of reserves and production capacity which will be increasingly depleted in the next few years. Therefore, the government targets that in 2025 the contribution from bioenergy can reach 23%. Development of renewable energy such as biofuel as a substitute for mining oil, biomass to replace coal, and biogas as a substitute for natural gas is a necessity to support national energy security, reduce consumption of imported fossil raw materials and greenhouse gas (GHG) emissions, and can save foreign exchange Country and support the domestic economy. Biogas is one of the pillars of energy security and independence is considered capable of optimizing the potential of natural resources, such as agricultural, livestock and industrial waste in Indonesia as biogas raw material; contribute to reducing LPG imports; provide gas products and sediment from fermentation (liquid or solid) that can be used in agriculture, and reduce environmental pollution due to methane (CH4) by making it a fuel. The gas obtained from biogas can be used for cooking, converted into electricity, and its by-products as natural fertilizer or animal feed. The need for gas in the country is quite high compared to the ability of production and limited resources causing the need for imports to meet the needs. This problem can turn into a great opportunity for biogas development to reduce the use of natural gas. The presence of biogas opens new business opportunities starting from the education stage, opening jobs, especially for the construction of biogas facilities or providers of biogas equipment, developing eco-friendly and multiproduct energy businesses, and marketing products through community co-operation so that they are integrated with other economic activities and able to increase community income.
The story of Mr Akhmad Sutrisno as one of the users of biogas installations can give an idea of ​​the potential of biogas in supporting living costs. By utilizing biogas, he was able to save LPG cylinder costs by Rp 600,000 per year for the kitchen needs of 7 family members. In addition to gas energy, the presence of fermentation (bio-slurry) in the form of solid or liquid from animal waste which is a raw material for biogas also provides added value to be used as a natural fertilizer or as a mixture of animal feed. The challenge faced in the process of obtaining benefits from biogas is the commitment to take care of biogas installations either by continuing to fill fermentation tubes which are sometimes deemed disgusting or routinely checking the condition of the biogas reactor itself.
Commitment in caring for and maintaining this biogas reactor needs to start since the construction is carried out by the trained and registered Construction Partner Organization (CPO) for BIRU programme, for example, personnel from CV Riski Abadi from South Sulawesi who got supplies from Rumah Energi. Not only that, after the construction of the reactor, there is user training in biogas operations and repairs carried out and also after-sales service. Of course, the smooth development activities and the use of biogas involve a variety of sectors both public, private, and government. Collaboration between communities themselves can develop the economic life of the region itself.
Since 2010, Rumah Energi has been working with Nestle and cooperatives that oversee dairy farmers in East Java to procure biogas. Faiza Anindita, a representative from Nestle, explained that one of the difficulties faced by small farmers is cost. Therefore, this cooperation provides financial relief for prospective users with subsidies conducted by Rumah Energi and Nestle, and soft loans conducted by cooperatives. An example is a provision of credit from village cooperatives to help finance biogas development on one farm. Credit payments are routinely made by the borrower breeder by depositing a portion of milk produced from dairy to the cooperative without being paid as a substitute for credit costs, making it easier for farmers to settle instalments.
Based on the information above, we can understand that it is very necessary to recognize the condition of nature and new energy to synergize with other natural components. Not only as a substitute for energy reserves but also so that we can be more observant in seeing business opportunities from the parts of the biogas chain. Starting from the upstream raw material to the downstream use of biogas.
You can download the panellists' presentations on this link.
26 May 2020