Cooking is easier and cheaper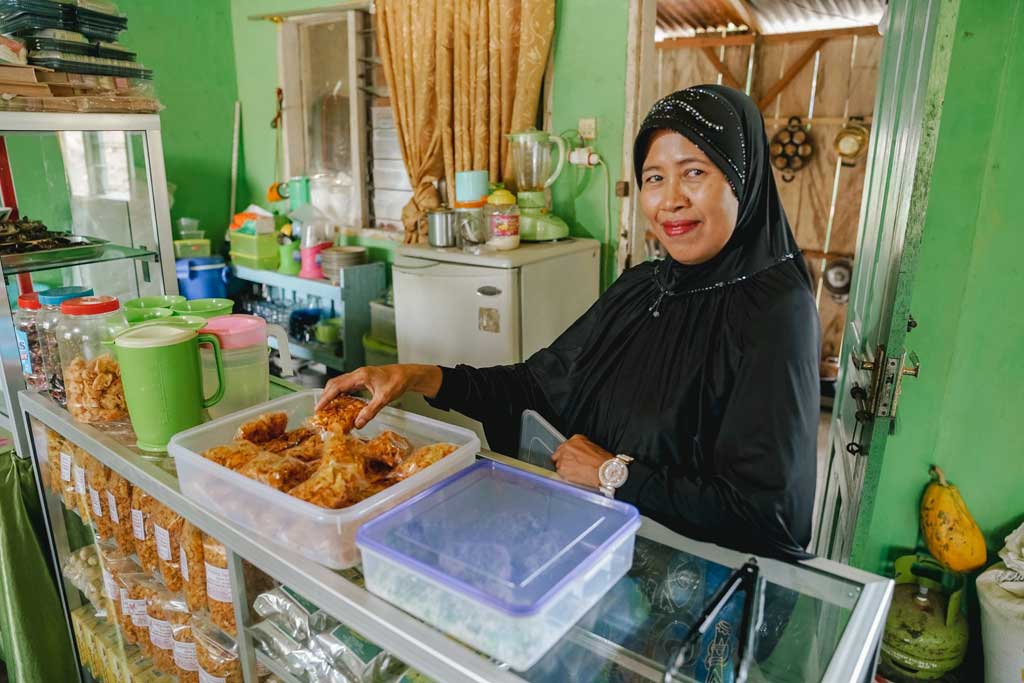 Like the people in rural Bulukumba, South Sulawesi, Normah and her husband, Rizal, has a livelihood as a cattleman and farmer. He runs a business of fattening and breeding cattle. At least 11 cows are always available in the cage. In supporting his family, he was assisted by Normah, his wife who became an Indonesian Literature Teacher at a junior high school, SMPN 1 Tanete. Aside from teaching and helping her husband, Normah also helped to increase her family's income by selling at a kiosk owned by the Bulukumba regency, 200 m away from her home, Azahrah Kiosk. She used the kiosk for free because it was loaned by the Bulukumba district government. Since becoming a user of domestic biogas, she no longer needs to purchase LPG cylinder to make banana chips and various cakes for sale. Now, Mrs Normah can save extra money to help her family income.
"We produce banana chips and various cakes for sale in the kiosk using our own domestic biogas as an additional income for the family. But, for the time being, the production is taking a halt because the stalls are closed and the supply of raw materials is also lacking due to a restriction of great scale social distancing (PSBB)," said Normah.
In mid-2017, Rizal and Normah received information from the head of his livestock group, Mabbulo Sibatang, that there would be biogas assistance. At the time, they did not know anything about biogas and thought that the assistance would certainly be useful. He then conveyed his willingness to get the biogas reactor assistance to the group leader.
After the construction, Rizal began to feel the benefits of the biogas reactor he received. His wife no longer buys LPG and even uses biogas to cook banana chips sold at his kiosk. He also began trying to use bio-slurry for pepper/pepper and clove plants in his garden. From the ½ hectare garden, he has at least 50 pepper trees and 20 clove trees. Every two weeks, he gives 1 litre of fresh bio-slurry for each pepper tree, while for clove trees he gives 5 litres of bio-slurry. He saw changes in the plants that became more fertile and fatter. The yield of the peppercorn also increased from originally only 3 sacks to 4 – 4.5 sacks at a time. The peppercorns also get bigger and heavier. But the obstacle for him is the distance of the garden which is quite far from his house. Every day he has to travel a distance of 3 km to carry bio-slurry from his biogas reactor to the garden before being splashed to his plants.
"Biogas is very beneficial for my household life, it can save money for the purchase of gas cylinders and I am greatly helped by the existence of biogas," claimed Rizal.
4 June 2020