Workshop: Exploring the Potential for Utilizing Water Hyacinth Weed in Kalimalang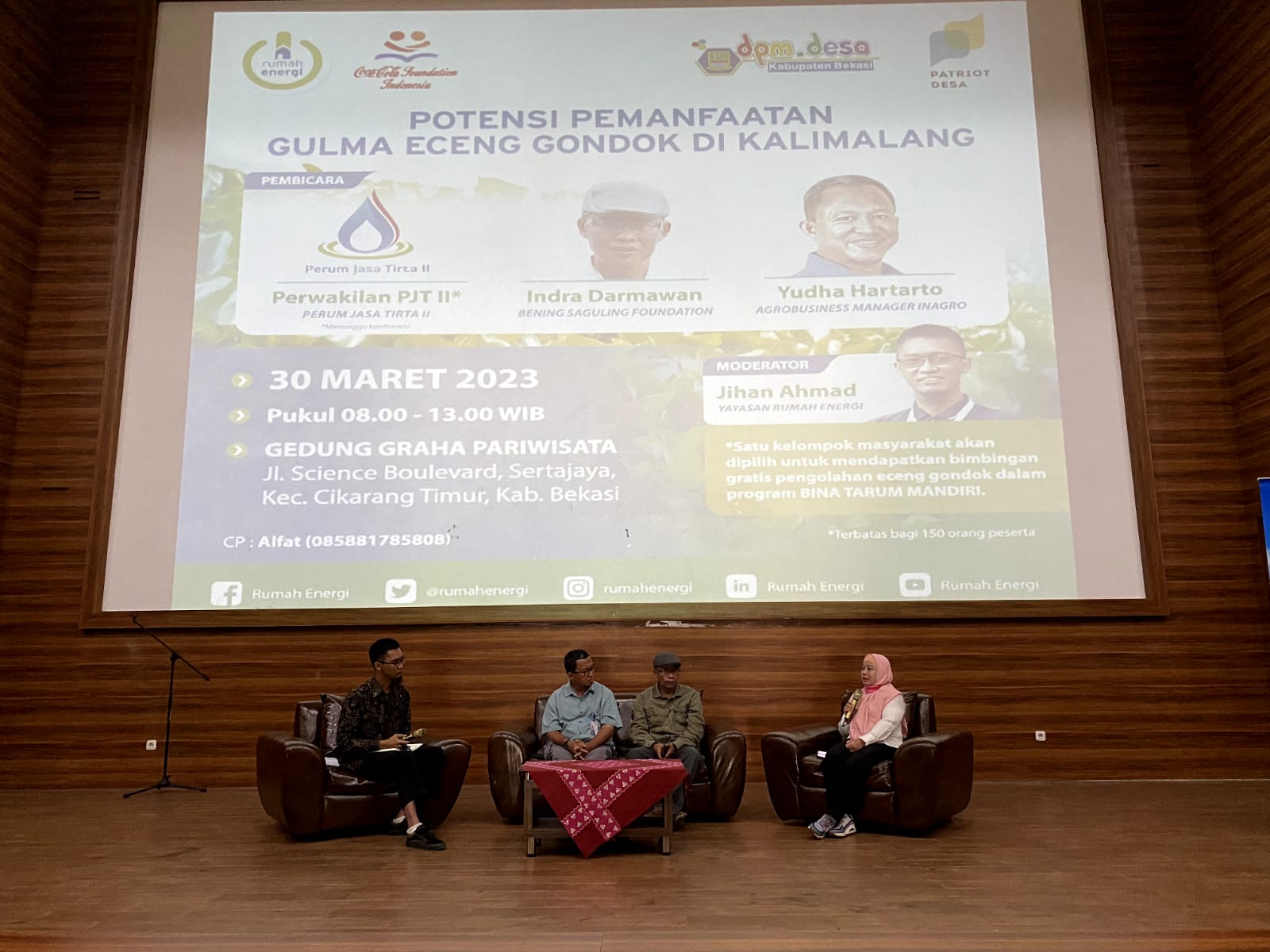 Bekasi – Based on the results of an analysis conducted by Yayasan Rumah Energi (YRE) shows that the raw water quality of the West Tarum Canal (Kalimalang) at several points is currently in moderate to severely polluted status, referring to Permenkes No.492 of 2010 as drinking water and PP No. .22 in 2021 as a class I river. One indication of pollution in Kalimalang is the growth of water hyacinth plants. The uncontrolled growth of water hyacinth causes damage to aquatic ecosystems and inhibits the rate of water flow, resulting in sedimentation which closes the water body, thus reducing the light and oxygen below it. Therefore, YRE is working with the Community and Village Empowerment Service (DPMD) through Patriot Desa of Bekasi Regency, to take the initiative to hold a community workshop to educate the public so that they are able to process water hyacinth into products that are useful and have economic value. This activity is a series of activities from the Seeing, Sharing, and Working for Kalimalang (HATI Kalimalang) program.
The workshop entitled "Exploring the Potential for Utilizing Water Hyacinth Weeds in Kalimalang" was held on Thursday (30/03) at the Graha Tourism Building, East Cikarang. This workshop was attended by around 110 participants from various community groups and organizations in Bekasi Regency such as PKK women, Youth Organizations, Farmers' Groups, Craftsmen's Groups, and representatives of 16 (sixteen) villages in Bekasi Regency. This community workshop is the initial part of the HATI Kalimalang project in initiating pilot actions that are implemented through empowering and coaching community groups in managing water hyacinth utilization. The empowerment and coaching activity, which is named Bina Tarum Mandiri, will begin in May 2023.
The community workshop presented two main speakers, namely Mr. Indra Darmawan from the Bening Saguling Foundation, and Mr. Yudha Hartanto from INAGRO. In the discussion session hosted by Jihan Ahmad (HATI Kalimalang Team Leader) as the moderator, Mr. Indra shared his experience with the Saguling Foundation that he managed to change the mindset of residents in the Saguling reservoir to process waste and water hyacinth into something that generates profit. Meanwhile, Mr. Yudha shared his knowledge about the potential for processing water hyacinth into compost.
Apart from presenting the two main speakers, the discussion session was also attended by Ms. Rini Widiowati the Assistant Manager of the Business Unit of Perum Jasa Tirta II. Mrs. Rini revealed that water hyacinth is an important problem that must be resolved. Then Mr. Bagus Dwi Widya, Division of General & Social and Environmental Responsibility (TJSL) of Perum Jasa Tirta II, shared his experience with community groups in Jatiluhur turning water hyacinth into active and enzymatic humus. This enzymatic can then be used to clear up murky water in rivers and clogged toilet drains.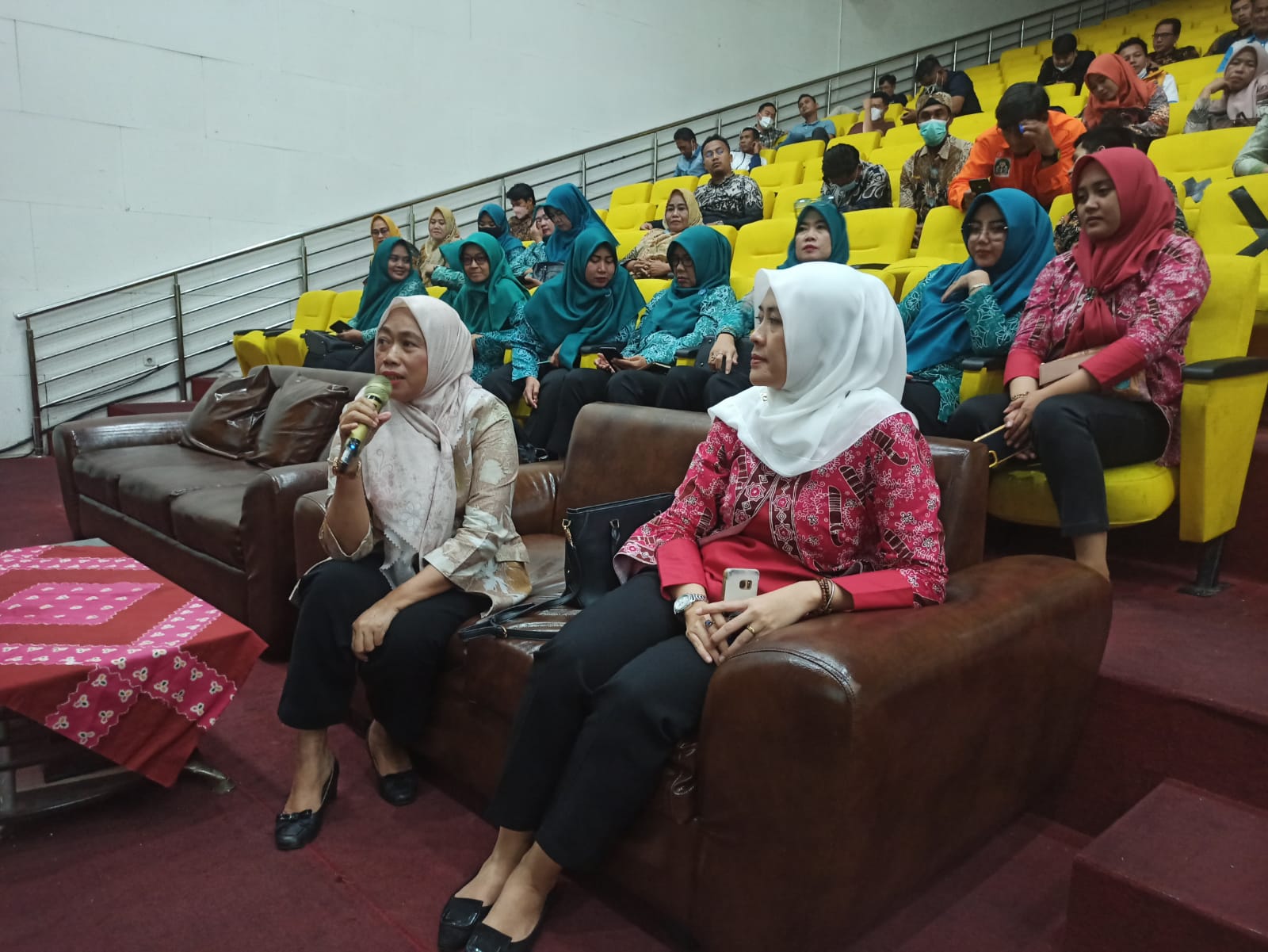 With the experience and knowledge shared, it is hoped that the Bina Tarum Mandiri program will be able to become a forum for the community to process water hyacinth into products that are useful and have economic value, to improve the community's economy and encourage people to care for the environment, especially Kalimalang.
Written by: Primagia Anugrah Lestari
Edited by: Fauzan Ramadhan
6 April 2023