Puan Inspiratif Batch 1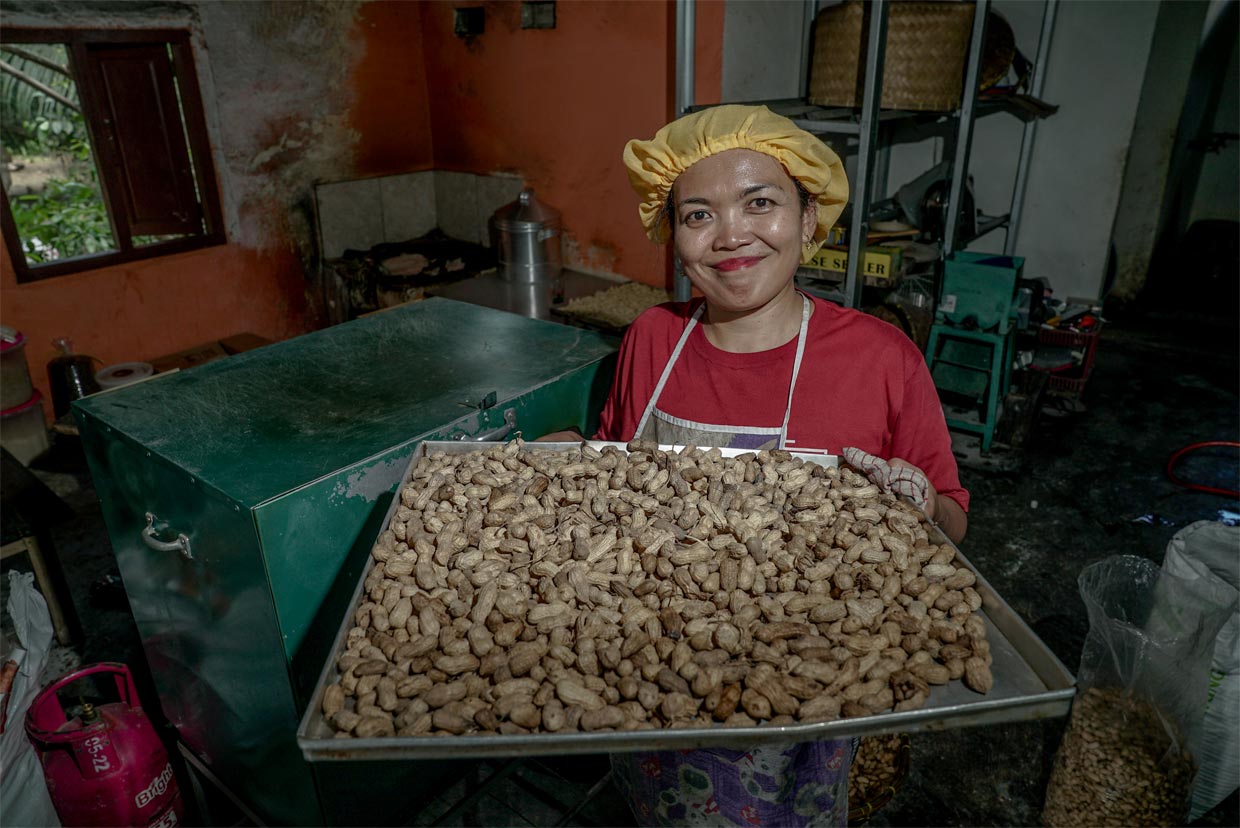 After being successful with social entrepreneurial incubation programs such as the Biogas RESCO and Pro-Women programs, Yayasan Rumah Energi (YRE) wants to continue to have more impact on entrepreneurial actors who continue to develop the Indonesian economy. By continuing to apply gender equality within the organization and outside the organization, YRE empowers women entrepreneurs who have an important role in the economy and the family.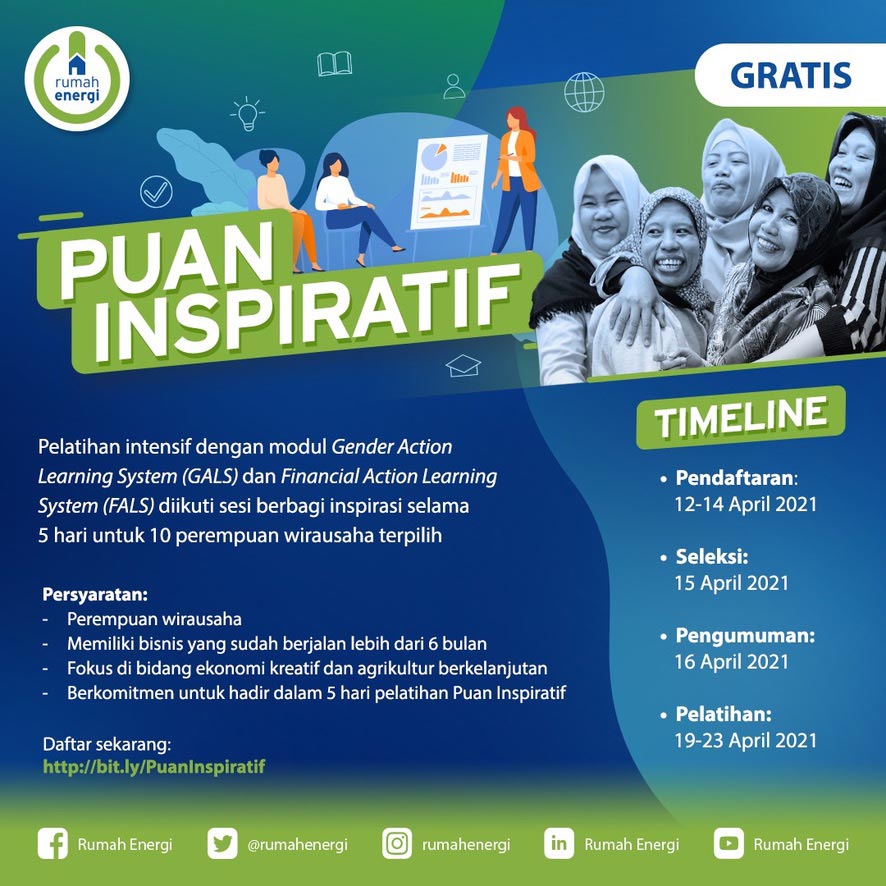 After more than a year Indonesia has experienced the Covid-19 pandemic, Indonesian women choose entrepreneurial alternatives for financial independence and fulfilling their daily needs. Obtained from Google's data with Kantar in November 2020, it was noted that 49% of Indonesian women were entrepreneurial, the highest figure compared to Nigeria, Thailand, Kenya, Mexico, Vietnam, Malaysia, Brazil, Argentina, South Africa, South Korea and Japan. And this is evidenced by data from the Central Statistics Agency (BPS) which states that the portion of MSMEs managed by women is 64.5% of the total Indonesian MSMEs in 2018, or reaching 37 million MSMEs.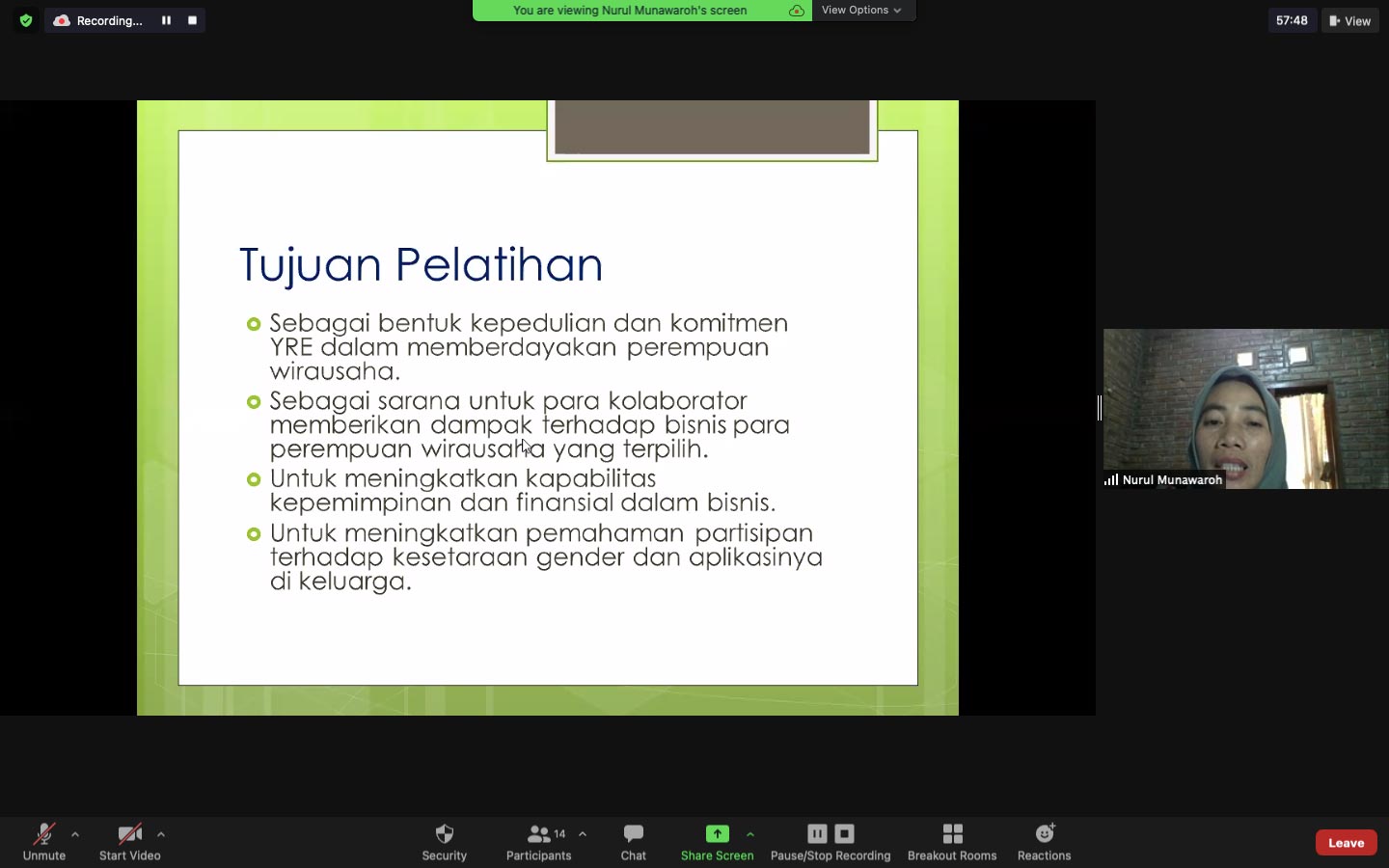 In celebrating Kartini Day which encourages all Indonesian women regarding equality, YRE holds free Gender Action Learning System (GALS) and Financial Action Learning System (FALS) training for selected participants, complemented by sharing sessions or sharing inspiration in leadership, business. , and also public speaking with experts in their fields.
On this occasion, YRE invited Trukajaya as a co-facilitator, Paragon Technology and Innovation (PTI) to share about leadership, Botanina to share about women as business actors and families, Crème Royale related to business resilience during a pandemic, and Hutan Itu Indonesia to share about public speaking.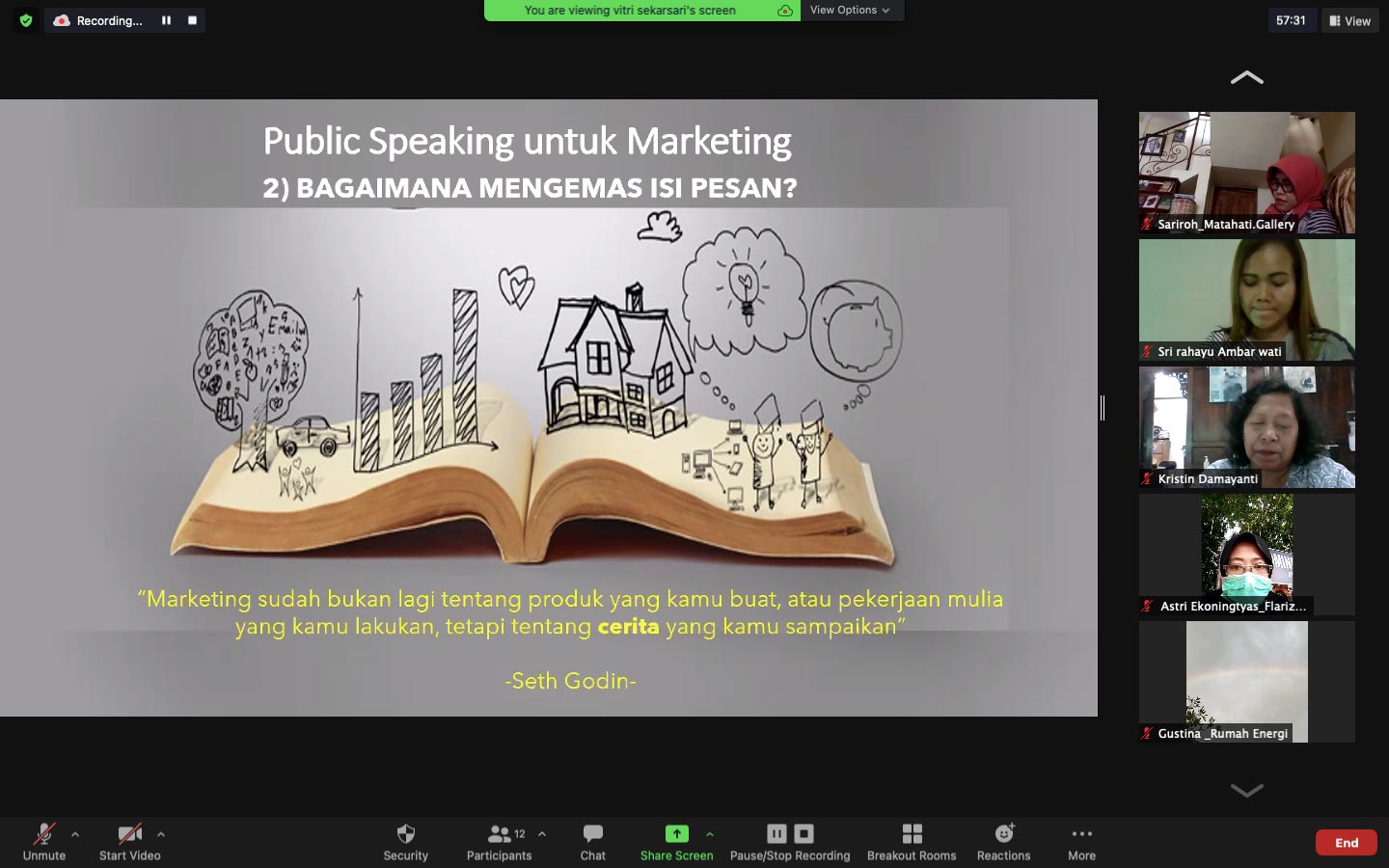 Puan Inspiratif is a program from YRE to empower entrepreneurial women who are starting their business through a gender equality approach. The activities of Batch 1 Inspirational Women were held for five intensive days on 19-23 April 2021. Of the 10 selected participants, only 5 Inspirational Women had a commitment to participate in the full training. Here are their profiles:
Raja es kuwut (Maximus Fresh)
Es kuwut which is actually a typical drink from Bali, but then the recipe was modified by Sri Mardani as the owner of Raja Es Kuwut (Maximus Fresh) so that it tastes different from the original. With natural ingredients, namely young coconut, lime, melon, and basil seeds. Ice kuwut products are available at outlets and some MSME food products are also available in the village which are deposited at the outlet. Now, it has 5 active resellers and several partners for business continuity, especially lime farmers, young coconut farmers and melon farmers. Sri Mardani wants to be able to empower farmers (oranges, melons, and coconuts) to be able to buy their crops at a reasonable price.
https://www.instagram.com/raja_kuwut/
Matahati Gallery
Sariroh is the founder of Matahati Gallery, which empowers local housewives to make ecoprint and shibori fabrics. Matahati Gallery has a desire to generate love for local products by loving nature, making ecoprint and shibori fabrics and sharing skills with women to improve skills and economic development by creating training classes and providing training for women's groups.
https://www.instagram.com/matahati.gallery/
Flariz Xcoffe
Flariz Xcoffe is a business that makes handicrafts / handmade from processed coffee waste into various products such as accessories, unique and distinctive souvenirs from Indonesia. Its superior product is the Former Bracelet. Seeking to reduce the environmental impact of coffee waste, Astri Ekoningtyas as the owner of Flariz Xcoffe continues to work as a single parent and a tough woman.
https://www.instagram.com/xcoffe_official/
Agtion.id
The lack of interest of young people in Indonesia to work in the agricultural sector is an issue that Agtion.id wants to solve. Yustika Muharastri as the founder admits this is very unfortunate because the determinant of the acceleration of sustainable agricultural development is in the hands of young people. Therefore, Agtion.id connects young agricultural enthusiasts with wider opportunities by providing agricultural career preparation classes.
https://www.instagram.com/agtion.id/
SALAKU®
SALAKU® is the first local brand in Indonesia that processes salak starting from its fruit, seeds and skin by applying a zero waste system. SALAKU® has the most complete variant with the tagline "the delicious way to eat salak". By targeting the fruit-loving market and its processed food lovers of Indonesian specialties as well as a local souvenir market, Shelly as the owner, built SALAKU® because of economic pressure and wants to help family income.
https://www.instagram.com/salakuolahansalak/
This GALS and FALS training includes 4 sessions, namely:
• Vision Journeys
• Empowerment diamonds
• Happy Family Tree
• Financial Management Calendar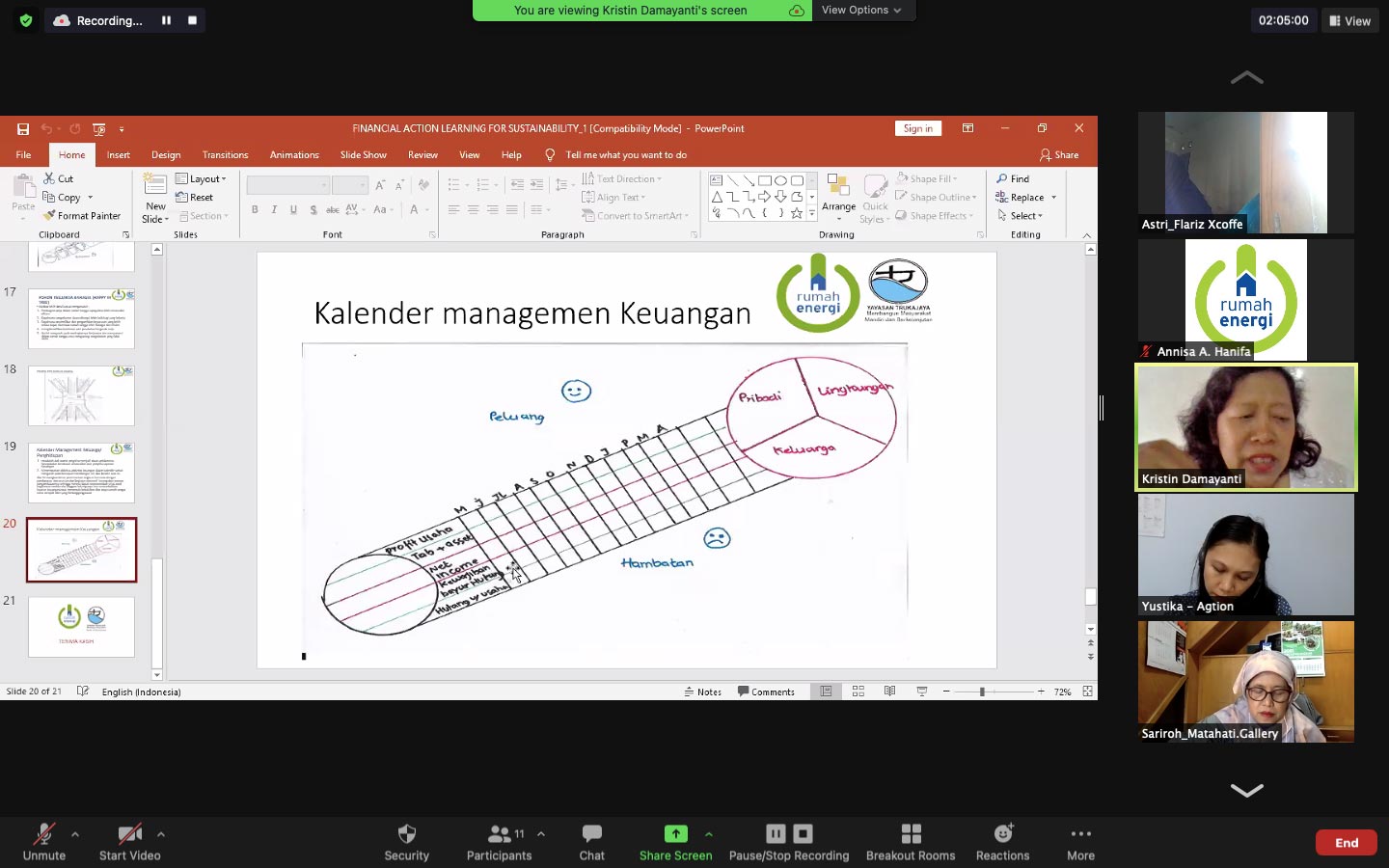 During the training process, Inspirational Women were invited to train the right brain by visualizing each session. This is so new for Inspirational Women because the training feels so fun and not boring. Through this training, Inspirative Women also admit that they have found a new family in expanding their business wings and supporting each other among other Inspirational Women.
30 April 2021