"Opening Access to Financing for Climate Change Mitigation to the Grassroot Level" Webinar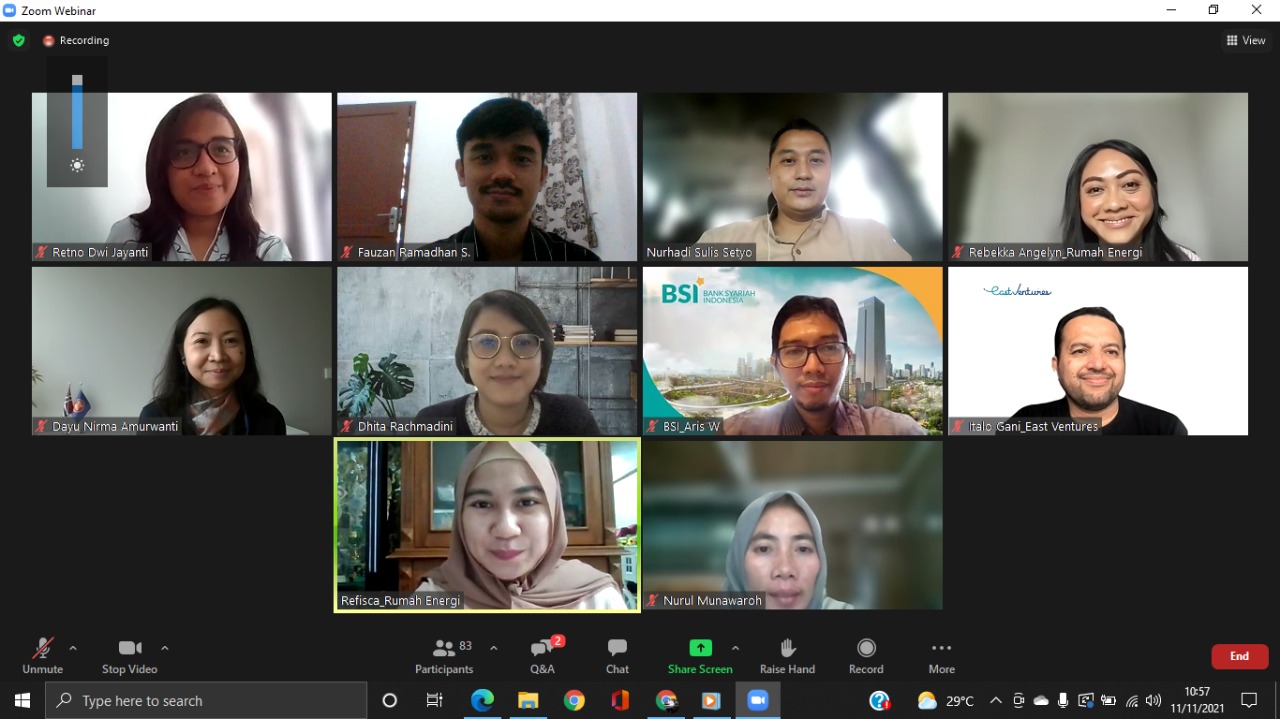 We are no longer in the stage of 'preventing', but 'confronting' the climate change. It is time for all individuals and institutions to step in to tackle the climate change.
On November 11, 2021, Yayasan Rumah Energi (YRE) held an event entitled "Membuka Akses Pembiayaan Aksi Perubahan Iklim ke Tingkat Tapak", as a means for financial institutions and related stakeholders to share and exchange ideas, about the practices that have been implemented and plans to be carried out, as well as opening collaboration opportunities for the speakers and participants to enter low-carbon and environmentally-friendly businesses.
In this event, Yayasan Rumah Energi invited the Ministry of Cooperatives and MSMEs as the opening speaker, as well as Koperasi Agro Niaga (KAN) Jabung, Bank Syariah Indonesia (BSI), Rabo Foundation, East Ventures, and Climate and Land Use Alliance (CLUA) as speakers for the event to share their perspectives and portfolios regarding climate change mitigation. The insights from all sides; cooperative, bank, donor, and investor provide complete knowledge-sharing and active participation from the participants.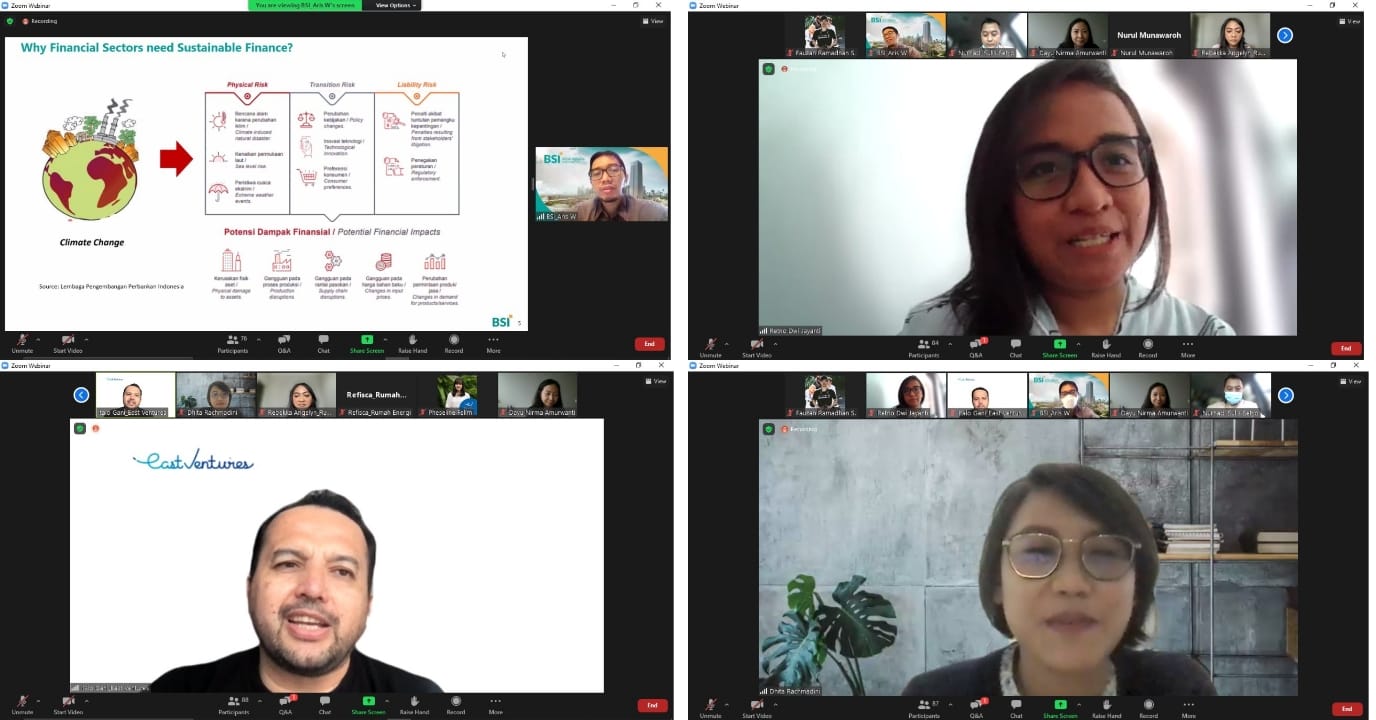 KAN Jabung, which has been established since 1989, is a group of dairy farmers who currently have a population of 1900-2000 cattles. One of the challenges faced by KAN Jabung related to climate change is the changes in environmental temperature and humidity that affect the performance of dairy cows, especially the decline in production and reproduction.
Bank Syariah Indonesia (BSI) is a joint bank of 3 banks, namely BNI Syariah, Bank Syariah Mandiri and BRI Syariah. As a state-owned banking institution that previously consisted of 3 different banks, BSI is currently looking for patterns and schemes for financing climate change.
The Rabo Foundation, which has been working with Yayasan Rumah Energi since 2010, helps provide access to funding for farmers who want to build biogas in their homes. In addition, the Rabo Foundation is actively running projects that have a positive impact on the environment, such as helping farmers to transition from high carbon to low carbon practices.
East Ventures as a Venture Capital also said that climate change is an issue that has become a hot topic lately. With the role of investors, East Ventures invests in founders who understand the problems in the field deeply and understand the solutions to overcome these problems.
The Climate and Land Use Alliance (CLUA) collaborates with associations that are committed to protecting the environment, such as helping cooperatives/institutions to get support from other funding institutions and helping develop business models related to protecting the environment.
The issue of environmental change has indeed become a scourge of concern for various institutions, but it does require greater cooperation and contribution. Hopefully this webinar will not only be an event and a place to share information, but can support real cooperation between various financial institutions.
After the event, a survey was also conducted regarding how the audience perceives the climate change. The result is that the audience 100% believes that the climate change really happened. A total of 29,4% of the audience believed that climate change was at a very critical level at level 5 and 54,4% at level 4. While 67,6% of the audience believed the importance of access to finance for climate change adaptation and mitigation at levels 5 and 26, 5% at level 4.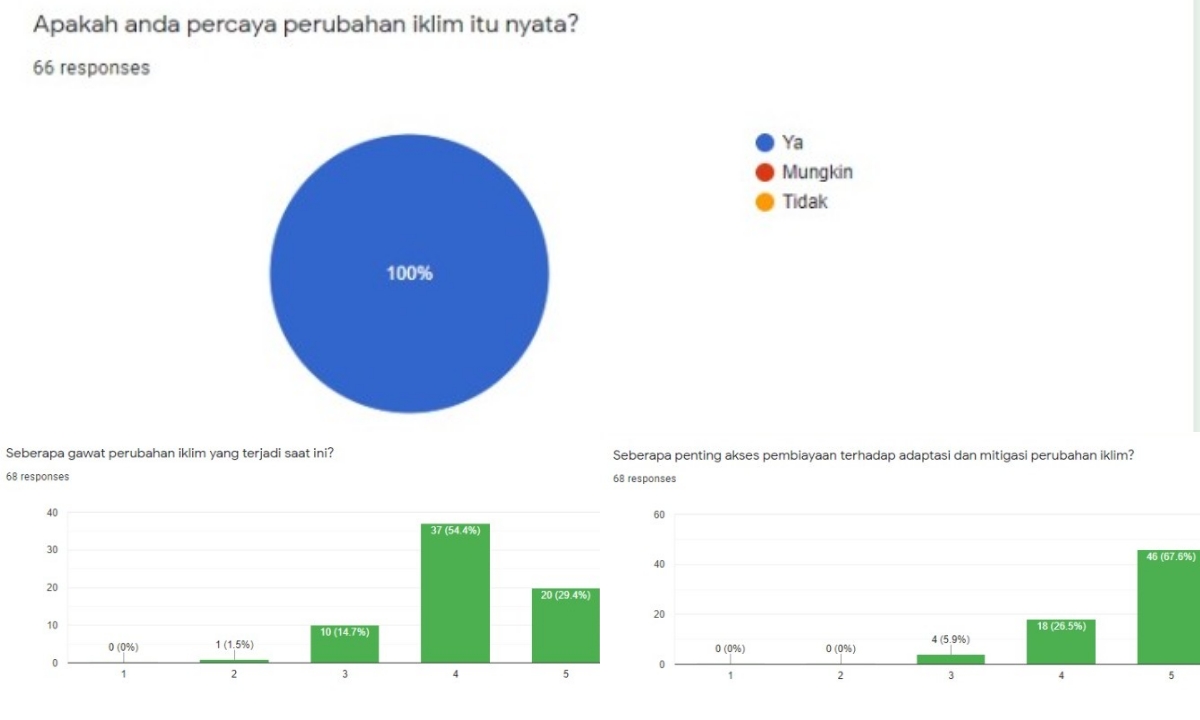 11 November 2021